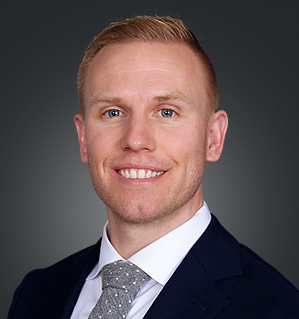 Sean Robinson,
M.D.
Orthopedic Surgeon & Sports Medicine Specialist
Dr. Sean Robinson was born and raised in Sacramento. He attended the University of California at Santa Barbara, graduating magna cum laude with a Bachelor of Science degree in Pharmacology. Dr. Robinson then attended Tufts University School of Medicine in Boston, Massachusetts. Following medical school, he returned to California and received his orthopedic training at the San Francisco Orthopedic Residency Program. During that five year residency, Dr. Robinson developed a particular interest in Sports Medicine.
Dr. Robinson completed his fellowship in Sports Medicine at the prominent Cedars Sinai - Kerlan Jobe Institute where he received focused training in hip arthroscopy and preservation, Tommy John UCL reconstruction, complex shoulder instability, rotator cuff tears and knee ligament and meniscal injuries. He is a highly qualified and skilled arthroscopic surgeon treating the hip, shoulder, elbow, and knee. In addition to arthroscopic surgery, he is experienced with arthroplasty of the shoulder, knee, and hip – including anterior approach hip replacement - as well as fracture care of the upper and lower extremities. As part of his fellowship, Dr. Robinson provided care to numerous professional and college sports teams including the Los Angeles Rams, Los Angeles Dodgers, Los Angeles Angels of Anaheim, Anaheim Ducks, Los Angeles Galaxy, Los Angeles Sparks, and Loyola Marymount University.
Dr. Robinson is dedicated to providing the highest quality Orthopedic care to his community. He grew up playing competitive soccer and baseball and appreciates the complexity of care both from the athlete's perspective and from the medical side. Consequently, Dr. Robinson is focused on returning patients and players to their full potential within their sport or activity.
Dr. Robinson is looking forward to establishing himself in Northern California with his wife and two children. As a family, they enjoy the beach, the mountains, and everyday activities that come with having two young children. Beyond family and when time permits, Dr. Robinson enjoys all outdoor activities including snowboarding, biking and golf. He is excited about the growth and evolution of orthopedic sports medicine within the Sacramento and Elk Grove Communities and looks forward to being a part of it.
University of California, Santa Barbara

, Santa Barbara, CA
2005-2009
Bachelor of Science, Pharmacology, Magna Cum Laude

Tufts University School of Medicine

, Boston, MA
2010-2014
Doctor of Medicine
San Francisco Orthopedic Residency Program


San Francisco, CA, 2014-2019
Kerlan-Jobe Orthopedic Clinic, Orthopedic Sports Medicine


Los Angeles, CA, 2019-2020
State of California, 2015-Active
American Academy of Orthopedic Surgeons, Candidate Member, 2014-present
American Orthopedic Society for Sports Medicine, Candidate Member, 2020-present
Robinson S; McGonigle O, Volin S, Sun Y-C, Moore M, Cassidy C, Smith E. Comprehensive Look at Blood Transfusion Utilization in Total Joint Arthroplasty at a Single Academic Medical Center Under a Single Surgeon. Journal of Blood Transfusion 2013; 2013:983250.
Robinson S, Krigbaum H, Kramer J, Purviance C, Parrish R, Donahue J. Double Row Equivalent for Rotator Cuff Repair: A Biomechanical Analysis of a New Technique. J Orthop. 2018 Mar 21; 15(2): 426-431.
Robinson S, Kramer J, Shelton T, Merriman J, Haus B. Assessment of Cartilage Growth after Biopsy of Osteochondral Loose Bodies in Adolescent Knees for use in Autologous Chondrocyte Implantation. J Pediatr Orthop. 2018 Apr 18, EPub ahead of print.
Kramer J, Robinson S, Purviance C, Montgomery W. Analysis of Glenoid Inter-Anchor Distance with an All-Suture Anchor System. J Orthop. 15 (2018): 102-106.
Kramer J, Robinson S. Hohn E, Wolf E. A History of Fixation Methods and Implants in Shoulder Stabilization. J Orthop. 2018 May 7; 15(2): 630-635.
Hohn, E, Robinson, S, Merriman, J, Kramer, W. Orthopedic Injuries in Professional Surfers: A Retrospective Study at a Single Orthopedic Center. Clin J Sport Med. 2018 Mar 23, EPub ahead of print.
Abstracts and/or Proceedings
Robinson S; McGonigle O; Volin S; Sun Y-C, Moore M; Cassidy C; Smith E. Comprehensive Look at Blood Transfusion Utilization in Total Joint Arthroplasty at a Single Academic Medical Center Under a Single Surgeon. American Academy of Orthopedic Surgeons Annual Meeting, Podium Presentation, March 2013.
Robinson S, Rodriguez JP, Kondrashov D, Nguyen J, Brooks A. Social Media Utilization Among Orthopedic Surgeons in a Large US City. San Francisco Orthopedic Residency Research Day, June 2015.
Kramer J, Robinson S, Purviance C, Montgomery W. Analysis of Glenoid Inter-Anchor Distance with an All-Suture Anchor System. American Orthopedic Society for Sports Medicine, July 2016.
Robinson S, Kramer J, Shelton T, Merriman J, Haus B. Assessment of Cartilage Growth after Biopsy of Osteochondral Loose Bodies for use in Autologous Chondrocyte Implantation. Podium presentation at Pediatric Research in Sports Medicine Society (January 2018) and International Cartilage Repair Society (April 2018)
Robinson S, Merriman J, Pandya N. Discoid Meniscus in the Pediatric Population: Epidemiology, Presentation, and Findings. PRISM (2019), AAOS Annual Meeting (2019)